Helvar - HF Electronic Ballasts T5 Lamps Dimming 1-10V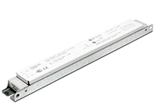 For Fluorescent T5 Lamps 1-10V Dimmable
Fully electronic, microprocessor controlled EL-sc ballasts offer a series of significant performance advantages with regard to lighting quality, comfort and energy efficiency.

The EL-sc range can be controlled either by an analogue 1-10VDC signal or with a contact closure (Switch-Control). Their features make them ideal for applications where the highest quality lighting control is needed.

EL-sc ballasts provide smooth stepless dimming from 1-100%. The minimum level is set this low in order to meet the most demanding requirements of stable low-level dimming.

Product Code

Wattage

Number
of lamps

Length (mm)

Width (mm)

Height

(mm)

Fixings

(mm)

Enquiries

EL1X14SC

14W

1

360

30

21

350

EL1X21SC

21W

1

360

30

21

350

EL1X24SC

24W

1

360

30

21

350

EL1X28SC

28W

1

360

30

21

350

EL1X35SC

35W

1

360

30

21

350

EL1X39SC

39W

1

360

30

21

350

EL1X49SC

49W

1

360

30

21

350

EL1X54SC

54W

1

360

30

21

350

EL1X80SC

80W

1

360

30

21

350

EL2X14SC

14W

2

430

30

21

420

EL2X21SC

21W

2

430

30

21

420

EL2X24SC

24W

2

430

30

21

420

EL2X28SC

28W

2

430

30

21

420

EL2X35SC

35W

2

430

30

21

420

EL2X39SC

39W

2

430

30

21

420

EL2X49SC

49W

2

430

30

21

420

EL2X54SC

54W

2

430

30

21

420