Helvar - HF Electronic Ballasts T5 Lamps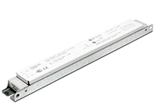 For Fluorescent T5 Lamps
The lowest possible system losses are achieved due to low temperatures and Helvars OCC™ technology.

The superior safety and EMC performance make them suitable for use in protection class II fittings.

The multi-lamp products operate all T5 high efficiency lamps from 14W to 35W. The upgraded EL-s version enables as well other multi-lamp combinations to be used for instance some TC-L and T5 lamps in one ballast. The height of 21mm combined with the side mount mechanics provide more freedom than ever in fitting design.

Product Code

Wattage

Number
of lamps

Length (mm)

Width (mm)

Height

(mm)

Fixings

(mm)

Enquiries

EL1X14-35S

14,21,28,35W

1

280

30

21

270

EL1X24S

24W

1

280

30

21

270

EL1X39/36S

39W

1

280

30

21

270

EL1X49S

49W

1

280

30

21

270

EL1X54S

54W

1

280

30

21

270

EL1X80S

80W

1

280

30

21

270

EL2X14-35S

14,21,28,35W

2

360

30

21

350

EL2X24S

24W

2

360

30

21

350

EL2X39/36S

39W

2

360

30

21

350

EL2X49S

49W

2

360

30

21

350

EL2X54S

54W

2

360

30

21

350

EL3/4X14S

14W

3 OR 4

360

30

21

350